82' Sunseeker Maryam
Starting from: $5000.00 / 12pm - 4pm (4hrs)
Party Luxury Yacht Rentals
You Can Trust!
Our mission is to provide YOU with extravagant party luxury yacht rentals at EXLUSIVE discounted prices! Treat yourself with our Miami five star yacht service.
Exclusive Party Boats Miami Florida
For exclusive yacht events like a graduation boat party, yacht rentals for birthdays, MYC provides the ultimate yacht party Miami style! We help you throw the best yacht parties in Miami.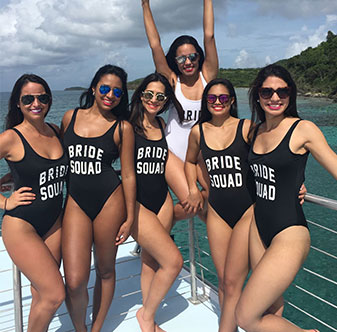 Bachelor & Bachelorette Boat Party
Ladies, are you looking to throw an unforgettable yacht bachelorette party? What about you fellas, planning that epic cruise for the groom? If so, make that memory last with MYC!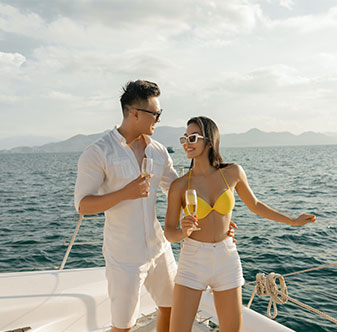 Private Yacht Tours Miami Florida
Experience the best private boat tours Miami has to offer! Allow our professional crew to navigate as you and your guests unwind and soak in the sun and spectacular tour!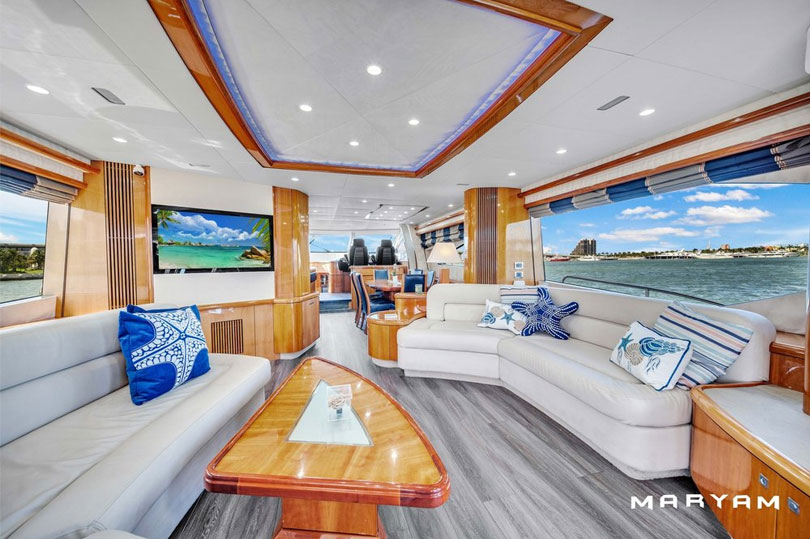 More About Our Miami Yacht Party Rentals
We strive to bring you the best luxury yacht rentals Miami can provide! Come enjoy breathtaking views, affluence, and all of the relaxing pleasures at sea. Allow us to provide the feeling of both comfort and extravagance at affordable Miami yacht rental prices!
Whether you're celebrating corporate events, private parties, or throwing an unforgettable Miami New Year's yacht party, we ensure smooth and lavish cruising. See the skyline from an upscale perspective with our luxury Miami VIP yacht rentals?
Our Sunseeker 82′ Maryam is our most popular party luxury yacht which you can RESERVE BELOW!
The Best Selection Of Yachts In Miami For Rent
Our impressive fleet is sure to have what you need! With incredible options from Astondoa yachts, a Broward yacht charter, a 55 foot Sea Ray yacht, and more, our yacht selection is unprecedented!
Why only 12 passengers on a yacht?
Under the SOLAS Convention (Safety of Life at Sea) established by The International Maritime Organization, any ship carrying more than 12 people is considered a "Passenger Ship" which has more strict rules and restrictions. At MYC Miami, our number #1 goal is your safety, which is why we comply with all required guidelines.
How much is it to rent a yacht in Miami?
Pricing can vary depending on the yacht and amenities you choose. We pride ourselves in providing exceptional luxury yacht charters at the most affordable prices in Miami. Experience true extravagant yacht adventures at amazing rates with MYC Miami.
What is your yacht charter refund and cancelation policy?
Unfortunately due to various logistics, all charters are non-refundable. However, if you cancel 2 weeks prior to your contracted departure date, you have the luxury to reschedule to another available date that works for you.
Are there any hidden fees or service charges?
Absolutely not, at MYC Miami we value our clients and are completely transparent. However, please do note that Florida state tax and at least 15% gratuity will apply as this is standard for such services.
How to rent a yacht in Miami?
We make the process of chartering a yacht through our site extremely easy! Simply click the "Reserve This Yacht" option under your desired yacht, and follow the simple on-screen steps and you will be booked in no time!
Where does the yacht depart from?
Depending on which vessel you choose, the exact departing location can vary. Once you book and your deposit is paid, we will provide the specific information on your charter, including departure location.
What if the weather is poor on the date of our yacht charter?
Not to worry! We understand that Miami's tropical weather can be unpredictable at times. In the event of hazardous weather on the date of your charter, we retain the deposit and you are able to reschedule to another available date without any additional fee. Please do note that certain conditions apply and that you must reschedule within one year of your original contracted date.
How safe is it to charter a yacht?
Your safety is our priority! Each of our yachts are regularly maintained and controlled by a certified crew. We also have life vests for each passenger and first aid kits onboard as a precaution.
Can we play our own music on the yacht?
Absolutely! Our yachts have amazing sound systems with Bluetooth capability so that you can enjoy your own music at anytime!
Are children allowed on our yacht charter?
Definitely, children are certainly allowed onboard. However, please do note that they must be accompanied by their parent or legal guardian.
Can we bring pets on the yacht charter?
We genuinely love pets! However, due to safety reasons, no pets are permitted onboard, unfortunately.